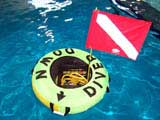 The Midwest Aquatics Open Water Diver course teaches our divers the foundational knowledge and skills they need to dive with a buddy, independent of supervision. The underwater world is an amazing place to explore. At Midwest Aquatics our goal is to give you the skills and knowledge to safely experience of the wonder of scuba diving. This course is open to anyone ages 10 to adult.
Diving offers a lifetime of exciting adventure and the ideal way to begin that adventure is with Midwest Aquatics Open Water Diver course. Under the guidance of a professional Midwest Aquatics Instructor, you will develop the knowledge and skills necessary to enjoy a lifetime of underwater exploration.
Knowledge.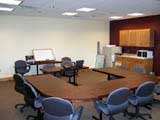 Using a modular, teaching system designed by Scuba Schools International which includes online study, a video, manual and a DiveLog. And with SSI's home study approach, you will be able to minimize your time in the classroom allowing for more time in the water developing ability and comfort.
Skills.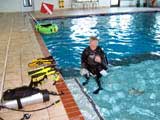 In multiple pool and open water session, you will practice scuba skills with SSI's exclusive Comfort Through Repetition teaching method. Some of the skills you will learn include:
Moving in the water with ease
Breathing normally under water
Controlling buoyancy so you neither descend nor ascend
The easiest ways to enter and exit the water
Getting water out of your mask or mask clearing
Equipment.
Since you can't dive without equipment, there is extensive information on scuba equipment including:
Why Buy from us? Expert staff, custom fittings, try before you buy opportunities.
Selecting the best diving equipment for your needs and budget
Maintaining and adjusting your equipment to extend its life and improve performance.
The knowledge development and confined water dives are conducted each weekend and are also offered on week nights usually over a four day period. The required open water dives can be done on one of our lake weekend trips, a Midwest Aquatics sponsored ocean trip, or referral papers can be supplied if you are planning your own trip to a dive destination.
Class Schedule:
We offer three different formats…
Class Weekend Format Schedule:
Saturday 9 am – 5 pm
Sunday 9 am – 5 pm
Class Weeknight Format Schedule:
Available upon request
Class Times: 6 pm – 10 pm
Private Executive Schedules Available upon request
You create the schedule